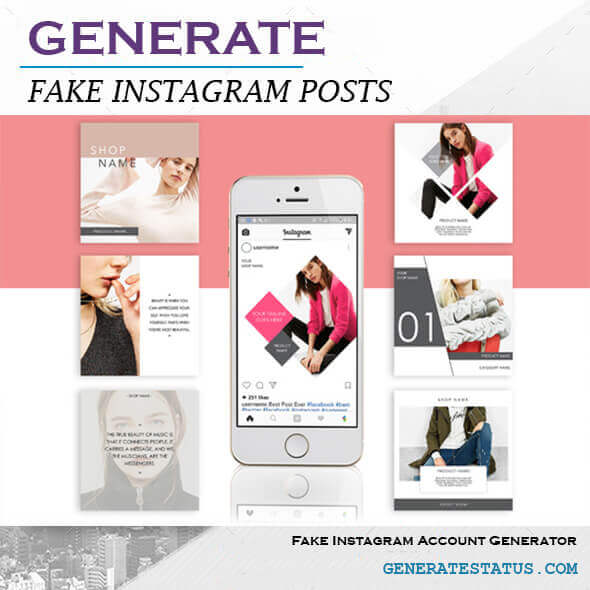 Create a fake instagram post and prank your friends by sharing the generated image by our Fake Instagram Post Generator. Upload profile picture ,upload your post image,set your post time and likes and write your post messages as you like to make the fake instagram post and prank your friends. Therefore start using Best Fake Instagram Generator Ever. Please note that these our fake instagram account generator is not associated with Instagram. Only use it for fun and personal use, don't hurt others.
Make the instagram post like you want from the options given below.After completion click on "Generate Image" button to save your generated instagram post.After some time a pop will show up on the screen with the share and download options for the generated Instagram post.Picture uploading can take some time so be patient and wait for the popup window to appear on the page.
After some time pop window will appear from which you can share your generated fake instagram post by :-
Image Link, Html Code or BBCode.
Social Media Websites (Facebook, Twitter, Linkedin, Google plus or Pinterest).
Download your image to your computer or device for future use.
Advantages of Using Fake Instagram Post Generator
Instagram is one of the most popular platforms today that allows online photo sharing and social networking. You can make a fake instagram post easily with our best instagram simulator. It is a fast, beautiful and fun way to share your life with friends and family.
You can take a picture of services or products that you offer and post these for the world to see. You can also advertise your own instagram products if you have some business or shops and share the generated instagram fake post on social media. It can help you gain more customers and more attraction because you can add thousands of likes and celebrities comments. With our instagram post generator you can add the likes and comments of famous celebrities and famous person. In this way you can make the fake instagram post more engaging and viral. People will take more interest in it when you share it on social media platforms. Hence in this way you will get more boost to your business and content marketing.
Making a fake instagram post will be also a risk free entertainment, You can upload that images and pictures of yourself in the instagram fake posts that you would never upload on real instgram accounts. So in this way you can make the instagram post of your choice without any hate or bad comments by your friends and family members. Then you can share this created instagram post with only your selected contacts and friends. Its fun to use and totally secure. We really care about everyone's privacy.
How to spot a fake Instagram Account?
To spot a fake account, watch for a few telltale signs. For instance, if you notice a user liking a random assortment of your photos or leaving random, generic comments "great post!" in rapid succession,then there is a good chance it is affiliated with a third-party booster and is trying to tempt you into following it back. At the very least, it is someone trying to rapidly inflate their follower count. So this is probably not a person you want to follow anyway.
Enjoy making fake instagram posts for fun by using our Fake Instagram Post Generator. Share it with your friends and family for good cause 🙂