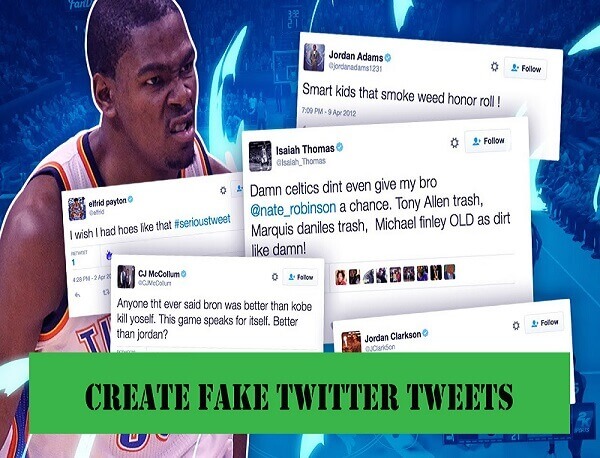 The latest Fake Tweet Generator tool with image that Is updated with Twitter's current look. Celebrities and Media use our tool to make fake tweets to get viral on social media.
Prank your friends by building Fake Tweets and funny Twitter Posts with our great online tool Fake Tweet Generator with image. This tool provides a mockup of Twitter Tweet. You can even imitate celebrities tweets to fool your friends. Create a real looking twitter tweet by uploading your profile picture, set your name, your fake twitter username, type tweet and set date of tweet. Also add the number of likes and retweets as you like and see live preview of your fake tweets with our Twitter Tweet Generator tool online. Please note that these our Tweet Generator is not associated with Twitter. Use it for fun and personal use only, don't hurt others.
Create fake tweets as you want from the options given below. Nowadays fake trump tweets are very viral on facebook, twitter and instagram. You can also make fake friend tweets and share it with your friends for fun. Therefore try to make a real looking twitter tweet by uploading correct profile picture, managing your username, tweet likes, tweet comments, tweet text and post time accordingly.
After completion click on "Generate Image" button to save your generated fake twitter tweet. Then after some time a pop will show up on the screen with the share and download options for the generated twitter tweet. Sometimes picture uploading can take time so be patient and wait for the popup window to appear on the page.
After some time pop window will appear from which you can share your generated
fake tweets
by :-
Image Link, Html Code or BBCode.
Social Media Websites (Facebook, Twitter, Linkedin, Google plus or Pinterest).
Download your image to your computer or device for future use.
Generally How Many Fake Twitter Followers Do You Have?
Here You can get a quick overview of how many of your Twitter followers are thought to be fake using a tool like Fake Follower Check from StatusPeople. This tool identifies how many of your Twitter followers' accounts have been flagged as spam or are inactive. Simply connect your Twitter account to Fake Follower Check, and you can instantly learn how many of your Twitter followers are fake.
Usually when you find a fake follower on your Twitter account, take a second to block them. Your effort will help Twitter identify and remove fake accounts and can improve the Twitter user experience for everyone.
Enjoy making fake twitter tweets for fun and keep sharing our Fake Tweet Generator tool with your friends and family 🙂