Facebook Post Generator v2.0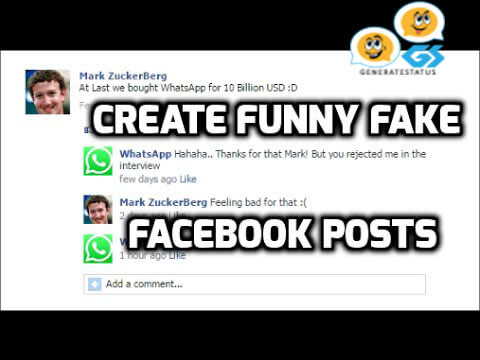 Build your own fake facebook post using our Facebook Post Generator and prank your friends.Fake Facebook Postallows you to change the persons name,profiles picture,likes,post text,post image and comments as you desire so that post should look like orignal and your friends should get pranked. In Facebook Post Generator, also make use of facebook emoji and smileys to make it look like real facebook post.It depends on your creativity how you can astonish and prank your friends and family.
Updated Fake Facebook Post Generator (New)
In 2018 facebook post layout has been changed a lot so we had made an new facebook post generator according to the new design layout.Hope you will like it.Try it now Fake Facebook Post Generator 2018.
How to use:
Make the fake facebook post like you want from the options given below. Click on "post settings" to manage your post settings and click on "Add comments" button to manage the comments of others.Click on post image to change post image and check the emoji's icons to show emoji's on posts.Similarly you can manage post text,likes,time,share options and comments. After completion click on "Generate Image" button to save your generated facebook post image.After some time a pop will show up on the screen with the share and download options for the generated facebook fake post.Picture uploading can take some time so be patient and wait for the popup window to appear on the page. After some time pop window will appear from which you can share your generated fake facebook post by :- 1: Image Link, Html Code or BBCode. 2: Social Media Websites (Facebook, Twitter, Linkedin, Google plus or Pinterest). 3:Download your image to your computer or device for future use.
NOTE: If you have any issues in making fake facebook post or status , see the tutorial How to Make Facebook Post or Status.
Enjoy making fake facebook posts for fun and keep sharing our Fake Facebook Post Generator page with your friends 🙂