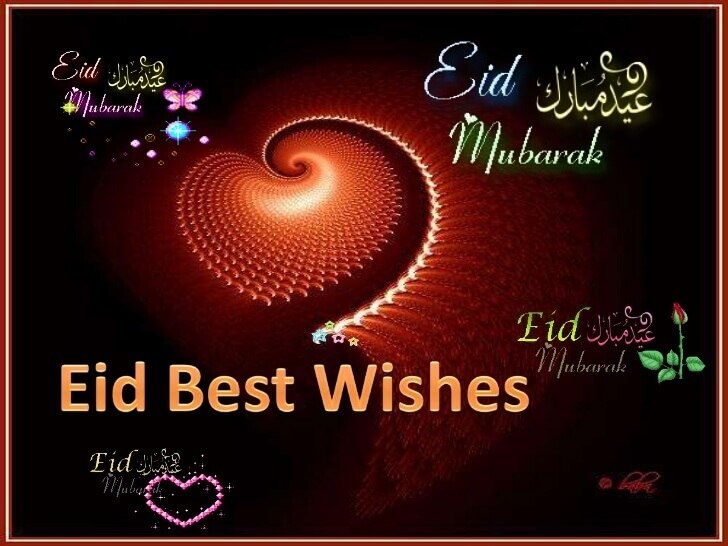 View beautiful collection of Eid Mubarak wishes, Eid Mubarak Messages with many others Best Happy Eid Wishes,cards, SMS and Greetings in English
After Ramadan is over, Muslims celebrate Eid al-Fitr, also called Feast of Breaking the Fast, an important religious holiday. Eid is a single day during which Muslims are not permitted to fast since it celebrates the conclusion of the 29 or 30 days of dawn-to-sunset fasting during the entire month of Ramadan. The day of Eid, therefore, falls on the first day of the month of Shawwal.
Eid al-Fitr 2018 will be celebrated on Saturday, June 16. However, based on the moon-sighting in North America, this year Eid-al-Fitr will start on this side of the world a day later, on Sunday, June 17. Here are 25 wishes, greetings and messages to share with your Muslim friends on this important holiday.
If you're looking for the best way to wish Eid Mubarak to your friends and family members then, these 31 Best Eid Mubarak Wishes to Wish Eid Mubarak to your friends, family and loved ones are just what you need.
Make your Eid Ul Fitr 2018 even more special by making Eid wishes, Eid profiles pictures,Eid greetings, Eid Covers, Eid Cards and Many More for free on
Eid Day Special Wishes, Greeting Cards, Profile Pictures and Eid Cards.
To see more articles related to Eid Ul Fitr: Eid Mubarak Special
31 Best Eid Mubarak Wishes to Wish Eid Mubarak to your friends, family and loved ones
Happy Eid Mubark to everyone. May you all have a very happy and blessed Eid. Enjoy these amazing days and remember those who need our help.
"May thi Eid bring Fun; Eid bring Happiness, Eid bring God's endless blessings, Eid brings fresh love…Eid MUBARAK to you and your family"
May this special day brings peace, happiness and prosperity to everyone. Eid Mubarak!
"When my arms can't reach people close to my heart, I always hug them with my prayers. May Allah's peace be with you. A very Happy Eid Mubarak to you"
Eid Mubarak. May Allah blessings be with you today, tomorrow and always.
"Eid is a wonderful and nice day to Pray, Care, Love, Smile and Celebrate with one another and to thank Allah for giving us this wonderful day. Eid Mubarak!"
On Eid al-Fitr, I pray that Allah's choicest blessings and love be showered upon you.
"When moon of Eid arises it makes all of us so happy and excited. May all of your times be full of such an amusing excitement and happiness. Happy Eid Day!"
"Let all your obstacles vanish in just a friction of second. Happy Eid!"
When The Sun Has Set,
And Day Is Done-
I"Ll Break This Chain, But Only One.
By The End Of Ramadan, This Whole Chain Will Be All Gone!
It"S Time For Eid And Lots Of Fun!!
Of all the days to celebrate this out shines the rest, here is hoping that, this EID is happiest and best. Eid Mubarak.
Hope Love and Laugher, Warmth, Wishes, Joy and a bouquet of Eid wishes, May jubilation become a part of your Eid and Your Life.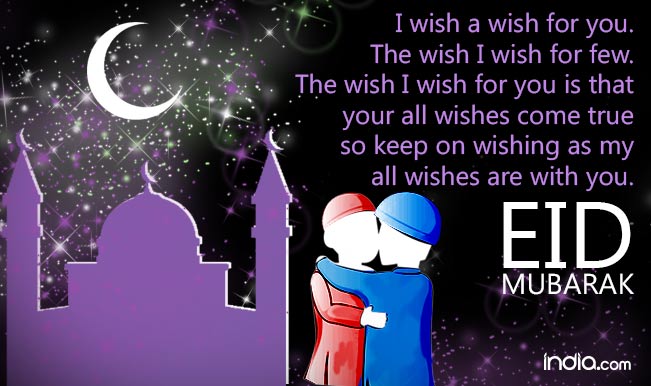 Sending you warm wishes on Eid and wishing that it brings your way ever joys and happiness. Remember me in your prayers. In every shared smile and laughter; In every silent prayer answered; In every opportunity that comes your way – may Allah bless you immensely! Eid Mubarak
"No shadows to depress you. Only joys to surround you. Allah himself to bless you. These are my wishes for you. Today tomorrow and every day… Eid Mubarak!"
Look Outside
Its so pleasant!
Sun Smiling For you
Trees Dancing for you
Birds singing for you
Because I requested them All to wish You
**..*EID MUBARAK*..**
Before the Golden Sun of Eid rises , let me
Decorate all of its rays with wishes of SUCCESS ,
Prosperity and Happiness for U and Urs Family.
Eid Mubarak !!!
I wish you the gift of faith, the blessing of hope, and the peace of his love at Eid and always.
May the magic of this Eid brings lots of happiness in your life and may you celebrate it with all your close friends and may it fill your heart with love.
May Allah accept your good deeds, forgive your transgressions and sins, and ease the suffering of all people around the globe.
My well wishes, my good wishes for you are the just prayers for your long happy life from God on this noble event. Wish you a very Happy Eid Mubarak, my dear.
May the Blessings of ALLAH fill your
Life with happiness and open all doors of
Success now and always…..
"Wish u a very Happy EID MUBARAK" 🙂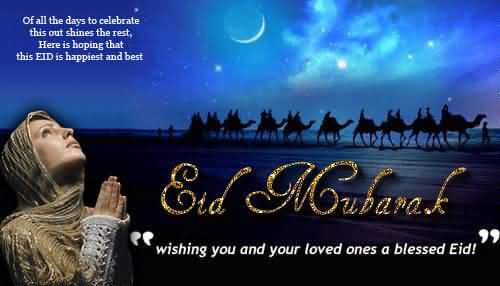 It's a day of rejoice and bliss; it's a day of blessing and peace; it's a day to reflect and ponder; it's a day to celebrate together!
On Eid ul-Fitr, wish that Allah's blessings light up the path and lead to happiness, peace and success. Happy Eid!
Eid days are meant to celebrate the goals and the achievements that make you happiest. The ideals you believe in, the dream you love the best. Eid Mubarak.
May the day delight and the moments measure all the special joys for all of you to treasure. May the year ahead be fruitful too, for your home and family and especially for you. Happy Eid Mubarak To You!
Don't hesitate to share with us your experience. You can drop down your opinions in the comment box below. For more such stuff keep visiting and dont forget to share this good cause 31 Best Eid Mubarak Wishes to Wish Eid Mubarak to your friends, family and loved ones with your friends and family members.
Happy Eid Mubarak 2018 🙂